Signature In The Cell: DNA and the Evidence for Intelligent Design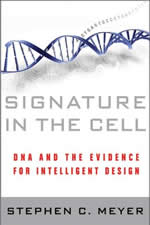 Publisher:
HarperOne, New York, NY
ISBN:
0061472794978-0-06-147278-7
Meyer, Stephen C., Signature in the Cell: DNA and the Evidence for Intelligent Design, HarperOne, New York, NY, 2009, pp. 624, ISBN-13: 978-0-06-147278-7
One hundred fifty years ago, Charles Darwin revolutionized biology, but did he refute intelligent design (ID)? In Signature in the Cell, Stephen Meyer argues that he did not.
Much confusion surrounds the theory of intelligent design. Frequently misrepresented by the media, politicians, and local school boards, intelligent design can be defended on purely scientific grounds in accordance with the same rigorous methods that apply to every proposed origin-of-life theory.
Signature in the Cell is the first book to make a comprehensive case for intelligent design based upon DNA. Meyer embarks on an odyssey of discovery as he investigates current evolutionary theories and the evidence that ultimately led him to affirm intelligent design. Clearly defining what ID is and is not, Meyer shows that the argument for intelligent design is not based on ignorance or "giving up on science," but instead upon our growing scientific knowledge of the information stored in the cell.
A leading proponent of intelligent design in the scientific community, Meyer presents a compelling case that will generate heated debate, command attention, and find new adherents from leading scientists around the world.
About the Author
Dr. Stephen C. Meyer received his Ph.D. from the University of Cambridge in the philosophy of science. A former geophysicist and college professor, he now directs the Center for Science and Culture at the Discovery Institute in Seattle. In 2004, Meyer ignited a firestorm of media and scientific controversy when a biology journal at the Smithsonian Institution published his peer-reviewed scientific article advancing intelligent design. Meyer has been featured on national television and radio programs, including The NewsHour with Jim Lehrer, CBS's Sunday Morning, NBC's Nightly News, ABC's World News, Good Morning America, Nightline, FOX News Live, and the Tavis Smiley show on PBS. He has also been featured in two New York Timesfront-page stories and has garnered attention in other top-national media.